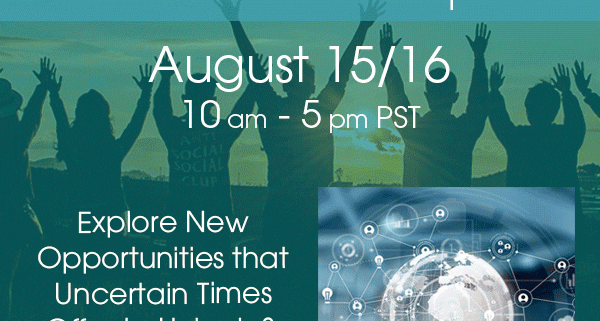 August 15 / 16 (10 am to 5 pm PST)
Uncertain times are necessary transition times for shifts and opportunities, and for setting new foundations. As part of life, we go through challenges, shifts, and transformation almost daily. However, we are now in a critical time of global transformation, as the wheel of Dharma is coming to its turning point since its last shift 2,500 years ago. With this global shift, we will be entering a new period of starting to dissolve borders and separation between people and nations. To fully achieve this, will take humanity another 2,500 years and will require individual effort to dissolve the separation that our ego creates from our being and other people's beings. This is the crucial and absolutely necessary foundation for that time to arrive.
Yes, we are blessed to be living in this special time to witness the struggle and collapse of old systems. Unusual situations take us out of our habitual comfort zone of thinking and behaviour patterns. We now can take advantage of many opportunities that the current global climate provides to break our old paradigms and conditionings that no longer serve us. These times provide us with a fertile ground to sharpen our intelligence, expand our consciousness, and evolve into new ways of thinking and living.
Regardless whether we are aware of it or not, our soul always longs for unity and opportunities to grow, be free, create, and manifest our best abilities and potential. To come to our flowering, and to manifest what existence longs to live through us, we must see what prevents us from thinking that we are not free and cannot live our life fully.
This workshop will focus on breaking your old mechanical ways of thinking and behaving and will help you access the Truth inside your Being. It will help you take advantage of Mada's unique gifts as a seer and visionary, who can see in your energy what you are not able to see yourself, and help you make the needed adjustments.
With the help of the Dalian Method and Mada's individual guidance, the workshop will help you:
• Chip away the blockages that prevent you from seeing what you need to do to take advantage of these uncertain times.
• Work on opening your third eye so you can access your unlived longing and potential.
• Transform the beliefs and conditionings that sabotage your inner power, strength, and courage.
• Gain clarity on what changes you must make in your ways of thinking and living.
• Explore the practical steps you must take in order to set the foundation for manifesting your creativity, gifts, and potential into reality.
Tuition: $375 (Early Bird $325 if registered  before August 4th, 2020)
~~~~~~~~~~~~~~~~~~~~~~~~~~
Other 2-Day Online Workshops:
October 24 / 25 (10 am to 5 pm PST)
Transforming Fear into Spiritual Strength 
January 9 / 10, 2021 (10 am to 5 pm PST)
Preparing for the Year 2021
Canadian residents can pay in Canadian dollars plus GST. Please contact us for details.
https://www.madadalian.com/wp-content/uploads/2020/04/Workshop-3.gif
600
600
mada
https://www.madadalian.com/wp-content/uploads/2017/11/newlogo.png
mada
2020-04-05 03:11:57
2020-07-25 17:54:56
2-Day Online WORKSHOP: Explore New Opportunities Uncertain Times Offer to Unlock & Manifest Your Gifts and Potential