Facilitator Training
Help to Empower and Transform Lives
with the Dalian Method
Dalian Method
Facilitator Training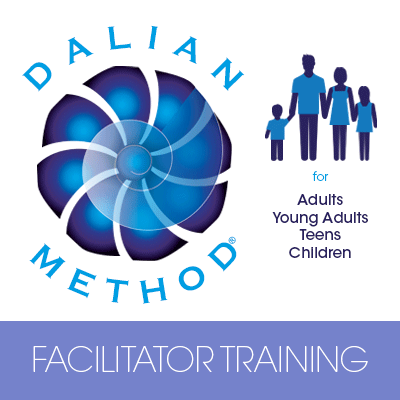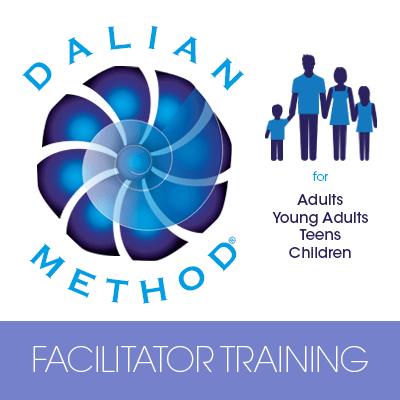 The Dalian Method Facilitator Training is a certificate program. It is for those who are passionate about helping others live a healthy and happy life. It is also ideal for result-oriented health care professionals (working in conventional and alternative healing modalities) who are looking to improve the effectiveness of their service and are aware that something is missing in the methods that they are currently using.
The Dalian Method Facilitator Training offers an exciting opportunity to become a pioneer in the new type of self-care evolution that the Dalian Method offers.
Providing a missing link between the allopathic (medication-focussed) and alternative (mind, energy, and nutrition-focussed) treatments of symptoms of chronic pain, anxiety, depression, and dis-ease, the Dalian Method facilitates direct access to the underlying causes of ailments in the body's cellular memory and transforms the unconscious programs into self-empowered consciousness.
Through the Dalian Method Facilitator Training you will not only be trained to facilitate sessions for others, but will also greatly benefit by continuing to work on your own personal growth and transformation while working with Mada and other facilitators through the twenty-one month of the training.
Equipped with the wisdom that Mada will share during the training about the subtle nuances of this new system, you will be ready to work with the whole family, including adults, young adults, teens, and children.
The Dalian Method Facilitator Training is offered in three parts and lasts for 21 months.
Each part consists of 10 days of in-person training, monthly follow up training calls, on-going individual support from Mada, as well as peer support through a private blog.
The training prepares people to know how to facilitate different versions of the Dalian Method and how to select an appropriate version when working with each person's unique situation and needs.
If you are looking to work with others with highest work ethics and make a true and lasting contribution in people's lives then this training is for you!
During the training you will learn how to:
Facilitate self-healing Dalian Method sessions for adults, young adults, teens, and children and help transform a wide variety of physical, mental, emotional, and spiritual issues;
Know when and how to work with the relevant version of the Dalian Method;
Help people gain a deeper understanding of their body, and learn to identify the thought-patterns and emotions that are repressed in their body;
Ground consciousness in the entire body;
Create post-session exercises to integrate the transformative results of their Dalian Method session in daily life;
Guide your clients on how they can continue grounding and integrating the shifts in awareness that will occur during their session;
Create engaging and informative presentations with the Dalian Method;
Facilitate workshops with the Dalian Method and Osho Active Meditations;
Develop your unique style of working with others and confidently share your knowledge, experience, and wisdom.
The Dalian Method (DM) Facilitator Training will give you an opportunity to:
Explore the wisdom behind the Dalian Method;
Understand the individual needs of each person and different age groups;
Understand the difference between thought-forms, awareness, and consciousness;
Deepen your understanding of different energy centres/chakras and how to work with various aspects of the ego-personality in each chakra;
Understand contradictory aspects of the human condition;
Understand how the Dalian Method works with transforming the unconscious beliefs imprinted in the body.
Alongside the in-person training periods you will also:
Connect with Mada through monthly conference calls and receive her guidance about questions that come up during your facilitation of the method;
Have exchange sessions with your fellow trainees and the facilitators from previous trainings to continue gaining more experience in facilitating Dalian Method sessions;
Stay in touch with Mada and other facilitators through a private blog specially created for the training.
Dalian Method Facilitator Certificate will be issued after completion of all three Parts.
Completing the Dalian Method Facilitator Training will open a wide range of possibilities for potential facilitators to assist the entire family in their quest for a more loving, balanced, and conscious environment for the entire family.
Prerequisites
Pre-qualifications for the training are: a private session with Mada and any two of the courses outlined below:
Please email us for further information after you have completed the pre-requisites and wish to be considered for this unique training!
"The Dalian Method Facilitator Training is a profoundly practical, transformative and essential experience for anyone that truly wants to assist in the radical, permanent healing and awakening from the deep wounds of humanity. This training gives all participants the skills and tools to facilitate oneself and others in the metamorphosis of body, soul and life, but the focus absolutely begins and continues within ourselves.  Working with a master such as Mada is an unparalleled gift, and anyone accepted into this training is extremely blessed to have the opportunity. In addition, being a part of this authentic, powerful community of Dalian Method facilitators continues to expand and enrich my world."
Neerava Sandra Nash
Yoga Teacher, Dalian Method Facilitator
"The facilitator training was personally transformative and healing for me. In each stage of the training I became aware of and worked through my own unresolved issues and wounds. Through the process of the Dalian Method Facilitator Training many of these wounds were healed. The facilitator training has given me an exciting opportunity to explore a new way of helping people, and it has opened a door of creativity within myself. I use the Dalian Method in my medical practice to help people who suffer from illnesses such as chronic pain, addiction, and psychiatric illness to name a few. This training has given me a renewed sense of purpose, and I am excited about the possibilities that now exist."
Dr. Rick Chehil, MD
Medical Doctor & Dalian Method Facilitator
"The Dalian Method Facilitator Training has been a precious gift to my soul.  I feel blessed and privileged to have met Mada Dalian and had the opportunity to work with her personally. I had tried a myriad of methods and modalities to heal my body, mind and spirit and nothing I tried came close to the profound impact of my experiences with the Dalian Method. This tool has allowed me to take responsibility for my own life and empowered me to access what had been deeply hidden in my unconsciousness. I am no longer a seeker. I have found my teacher and the Dalian Method. This training is for anyone who is serious about their healing, personal growth and transformation. If you have a deep desire to assist other people with their journey of healing and awakening then the Dalian Method Facilitator Training is a profound gift you can give to yourself and others."
Sandy Sernoski
Police Officer & Dalian Method Facilitator
"I have been using the self-healing Dalian Method™ for myself for three years and fell in love with this process seeing how quickly it helped me transform painful traumas and insecurities. Taking part in the Dalian Method Facilitator training has even further changed and enriched my life in ways that I couldn't have ever imagined. Even after the training, Mada's continued generosity and guidance and the support from the wise family of facilitators continues to assist me. I feel honoured and privileged to be able to use this magical tool in helping others with their healing and self-empowerment in solidly measurable ways. I can't imagine doing anything that is more important, meaningful, and rewarding."
Lila Haris
Dalian Method Facilitator
"Becoming a Dalian Method Facilitator was life changing for me. The trainings were dynamic, intense and thorough. I was in awe how each level of the training was different and very necessary as it added additional insights and tools to heighten our facilitating skills. The trainings also helped to fast-track my own evolution. We dived deep into the human condition and I healed a huge chunk of my own unconsciousness. Working with Mada in such close proximity was truly a gift. It was evident that she gives a 100% to anything she does, this was no exception. I walked out of each training confident and ready to share this very valuable tool, the Dalian Method, with the world. I have already facilitated countless sessions for adults, teens, and children and always marvel at the precision of this system as it has without fail created tremendous shifts in people's lives. Mada is a genius in creating this system!"
Belinda D'Mello
Dalian Method Facilitator
"The Dalian Method facilitator training has become an essential and extraordinary part of my career, personal life, and all that is important to me. The depth of insights that Mada shares during this training are literally dynamite in their practicality and power to assist. This training has completely redefined what the words empowerment and transformational leadership mean to me and has shown me the wisdom to recognize the intelligence that is within each person. Without this training I would have not been able to understand the depth, power, and intricacies of this unique system and how to truly assist others with it. The life changing results that I have seen my clients experience time after time are a shining testament to the power of the Dalian Method and Mada's genius. If you truly seek to help yourself and at the same time become a pioneer in helping to educate and empower others with a completely new miracle tool I recommend this training wholeheartedly!"
Kindi Dulai Gill
Spark Expansion Consulting LTD
"The Dalian Method Facilitator Training has gone beyond what I could have imagined. It has taken me on a journey inside myself unlike anything I had experienced before. And witnessing other people's transformation through this method leaves me without a doubt that this is the new paradigm for healing and health in our society's future. Working with the body, mind, emotions, spirit, and consciousness simultaneously, the Dalian Method brings about a multi-dimensional shift on all levels that is not possible to achieve with other methods. Mada's brilliance in the creating this method is truly a gift to the human race!"
Victoria Veldhohen
Air Canada Pilot & Dalian Method Facilitator
"After experiencing medical school in Amsterdam and working in the ICU I am excited that I have found Mada. My inner work has had an acceleration of transformation since working with the Dalian Method and I am so grateful that I can participate in the SHDM Facilitator Training with the intention to include this in my practice as a doctor. We are blessed with the enormous gift that Mada is giving to the health care system!"
Dr. Mattanja Dirks, MD
Dalian Method Facilitator
To be notified of the next Dalian Method Facilitator Training please subscribe below: